Jam-packed with the latest and smartest cool business ideas from around the globe.
If you enjoyed today's issue of BIZNESS! newsletter, then don't forget to also 'Like' our new Facebook Page at https://facebook.com/CoolBizIdeas!

Also check out our stream of new business ideas at CoolBusinessIdeas.com.
If you haven't, be sure to subscribe to this free newsletter!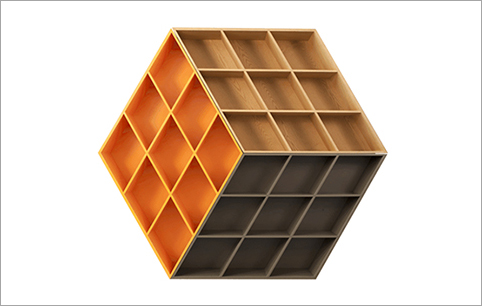 Rubiks Bookcase

SInspired by everyone's favorite 80's toy, the Rubik's Cube, designer George Bosnas reimagined the idea of a bookcase for Greek brand Anesis. Rubika B601 adds some visual delight to a standard bookcase by giving it the look of a three-dimensional cube.

Read The Rest of This Article |

Homes & Living



Pen That Repurposes Old Plastic Goods

'Renegade' was born with the aim of being the perfect solid tool to eliminate overpriced 3D printing filaments and to save the environment by directly recycling and reusing household plastic waste for 3D printing. It prints models by recycling plastic bottles, files, and bags.



Read More |

Gadgets

Open Source Precious Plastic Recycling Machines

Dutch designer Dave Hakkens has updated his series of Precious Plastic machines, which anyone can build and use to make products by recycling the material (+ movie). Blueprints for the new machines, which the designer described as "a solution to plastic pollution", are now available online.



Read More |

Gadgets

Chocolate Lego Sculptures

Our favorite building block is now edible! Japanese artist Akihiro Mizuuchi has transformed the familiar LEGO bricks into a culinary treat with chocolate pieces that are actually fully functioning! LEGO lovers can now nibble while they build white, milk or dark chocolate sculptures.



Read More |

Design & Fashion

Eating Europe Food Tours

he best use of your time, we highly recommend, is getting yourself on an Eating Europe Tour. Currently in Rome, Florence, Prague, Amsterdam, London, and soon Venice, these guided food tours are a whirlwind of history, craft dishes and drinks, hidden local gems and bumping elbows with the rest of the city.



Read More |

Travel & Transport

Geometric Shelves

British design house Kukka released a new series of geometric wares in bold splashes of color. Ridges, which includes wall-mounted shelves and matching trays, explores metal as a material and all the things you can do with it when using metal folding technology.




Can't stand your demanding boss anymore? Start your own business! Before that, be sure to subscribe to BIZNESS, our free informative newsletter published by CoolBusinessIdeas.com. Every week, get the latest edition jam-packed with the latest and smartest cool business ideas delivered straight into your inbox.