Jam-packed with the latest and smartest cool business ideas from around the globe.
If you enjoyed today's issue of BIZNESS! newsletter, then don't forget to also 'Like' our new Facebook Page at https://facebook.com/CoolBizIdeas!
The next issue will arrive in your inbox in the week of 5 Apr 2015. In the meantime, check out our stream of new business ideas at CoolBusinessIdeas.com.
If you haven't, be sure to subscribe to this free newsletter!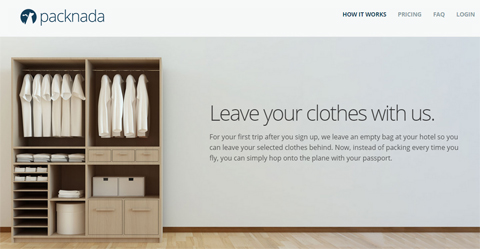 Luggage Free Travel

Travelling can be made more fuss-free when you are able to travel without any check-in baggage (containing your clothes, toiletries etc.). Packnada is a travel baggage concierge-like service that allows you to do just that.

Read The Rest of This Article |

Services



Elbee Control Devices With Voice Or Head Gestures

Introducing the Elbee, smart wireless earphones that can perform custom shortcuts to your favorite actions without the need to use your hands. They enable you to receive notifications directly in your ear and to control devices with simple voice commands or head movements.



Read More |

Gadgets

Cronus Titanium Cigar Pod

The Cronus cigarillo/cigarette holder with Colt cylinder design is precision engineered and CNC machined from titanium. Rotating cylinder with interior bearings, and unique revolver sound. Holds up to 6 cigarillos or cigarettes. This $7500 big boy is a replica of a Colt cylinder with real bearings and ratchet mechanism.



Read More |

Luxury

Trunki Ride On Suitcase For Kids

Trunki Inc is ready to roll out a brand new line of Trunki ride-on suitcases direct to the US. The new designs have great 'wild west' appeal with Bronco & Bluebell, pony inspired cases to get any little cowboy or girl ready to ride, but also stay true to their British roots with Boris, the iconic London double-decker bus.



Read More |

Consumer Goods

Ripples Spreading Around The World

Share a thought, local event, or joke with people near you. The Ripple app tests a new concept for social media. Ripple lets you start "ripples" about things you care about and send it to people near you, who in-turn can choose to "ripple" it to others. You can see a map of your ripples as they spread in your community.



Read More |

Mobile & Apps

NFC Business Cards

PhoneHome Project presents the first communicative, customizable, and convenient NFC Business cards. Your name, phone number, email, address, title, and much more can be stored. The NFC Cards are easy to scan with a circuit large enough for users to succeed in scanning the first try.




Can't stand your demanding boss anymore? Start your own business! Before that, be sure to subscribe to BIZNESS, our free informative newsletter published by CoolBusinessIdeas.com. Every week, get the latest edition jam-packed with the latest and smartest cool business ideas delivered straight into your inbox.