Jam-packed with the latest and smartest cool business ideas from around the globe.
If you enjoyed today's issue of BIZNESS! newsletter, then don't forget to also 'Like' our new Facebook Page at https://facebook.com/CoolBizIdeas!
The next issue will arrive in your inbox in the week of 21 Apr 2014. In the meantime, check out our stream of new business ideas at CoolBusinessIdeas.com. If you haven't, be sure to subscribe to this free newsletter!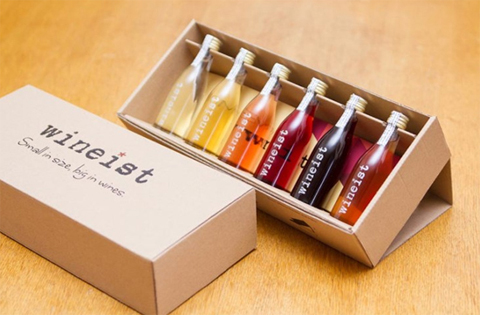 Wineist Wine Delivery
European startup Wineist is disrupting the wine industry with its unique way of online wine tasting. Curated premium wine tasting experience delivered to your home. Enjoy a monthly delivery of new quality wine samples, from the wine cellar to your doorstep. Each month wine professionals, from all over the world, choose a new theme and new wines for your tasting pleasure. The Wineist package, is delivered to your home, your office or your friend's house. Ready to be tasted.

Read The Rest of This Article |

Comments |

Services



Alarm Clock With Modern Look

Are you one of those people that likes a traditional alarm clock/radio but also keeps your phone within hand's reach? Soundfreaq has launched the brand new Sound Rise, a clock that brings you all the features of an old-school alarm clock, but updates it for modern times and today's lifestyle.



Read More |

Comments |

Consumer Goods

Electric Powered Drift Trike

Since originating in New Zealand in 2009, the sport of trike drifting has slowly but surely spread to hilly regions all around the globe. Now, Arizona-based Local Motors has developed an electric powered drift trike dubbed Verrado, which aims to extend this form of recreation to residents in flatter parts of the globe.



Read More |

Comments |

Entertainment

Vybe Interchangeable Polarized Sunglasses

Vybe Sunglasses are the world's first pair of interchangeable and customizable sunglasses. The entire body of the sunglasses is interchangeable including the ears, arms, frames, and polarized lenses. Vybe's have a twelve color palette and eight different lens choices which allows you to customize your pair.



Read More |

Comments |

Consumer Goods

Comfort Home In Winter

La Luge was designed to celebrate the wonders of winter. The secondary home is made up of two volumes, a dark and a light, that exist on different levels but merge in the middle. The light volume is made up of cedar, oak and walnut both inside and out. Lined with floor to ceiling windows, the light volume is open.



Read More |

Comments |

Design

Build On Brick Mug

We live in a world of multipurpose products – GPS watches, internet phones, smart fridges. Why should the humble mug be any different? It shouldn't. So while we track down a mug that'll drive itself to the kitchen, or check our kidney functions, why not busy yourself with the Build-On Brick Mug.

Read More |

Comments |

Consumer Goods




Can't stand your demanding boss anymore? Start your own business! Before that, be sure to subscribe to BIZNESS, our free informative newsletter published by CoolBusinessIdeas.com. Every week, get the latest edition jam-packed with the latest and smartest cool business ideas delivered straight into your inbox.