Jam-packed with the latest and smartest cool business ideas from around the globe.
If you enjoyed today's issue of BIZNESS! newsletter, then don't forget to also 'Like' our new Facebook Page at https://facebook.com/CoolBizIdeas!
The next issue will arrive in your inbox in the week of 6 Jul 2015. In the meantime, check out our stream of new business ideas at CoolBusinessIdeas.com.
If you haven't, be sure to subscribe to this free newsletter!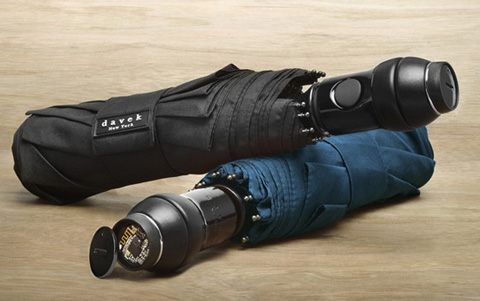 Smart Umbrellas

When you spend a lot on an umbrella, it can be painful when you lose it. Enter Davek Alert. Davek makes high-quality umbrellas—the kind you'd like to have for longer than an unexpected downpour. This weather wonder not only has a zinc alloy handle and an industrial grade aluminum and fiberglass frame but it also has high-tech features. When the on-board motion sensor recognizes that its owner has taken it out for the day, it begins to monitor the distance from its Bluetooth-paired device (the owner's Android or iOS device). When it senses it has been left behind, owners receive a notification.

Read The Rest of This Article |

Consumer Goods


Invest And Charge For Free Forever

Amsterdam-based Fastned is looking to gin up some extra startup cash to expand its fast-charging station network beyond its current count of 31 stations throughout Europe. The company is launching Fastned Founders Club, which is reserved for those who buy more than 2,500 shares of the company.



Read More |

Technology

Cleans Road; Cleans Air

Empa, ETH Zürich and Bucher Municipal have developed a hybrid-electric powertrain for road sweepers that's said to consume half the energy of diesel-hydraulic vehicles and reduce emissions by more than 60%. The main goal of the project was is to offer a cleaner alternative to diesel sweepers.



Read More |

Society & Environment

The Shoe That Grows

It was then that the idea for 'The Shoe That Grows' began to form. "I thought, wouldn't it be nice for them to have shoes that could adjust and expand?" Lee told Christian Today. "That was the spark." They designed a shoe made of soft leather on top, and durable rubber soles to withstand rough terrain.



Read More |

Society & Environment

Mo, The First Uran Solar Vehicle

Evovelo, inspired by racing technology "eco-marathon" and "solar race", has designed the first fully enclosed solar vehicle. It is able to operate as a vehicle for transporting people and freight, all with minimal environmental impact thanks to its hybrid propulsion system (solar/electric/human).



Read More |

Travel & Transport

Sleephero Apps For Awakened Babies

Can't get your child to sleep through the night? There's an app for that: SleepHero uses a parent's voice to lull babies into slumber. SleepHero is an app that helps settle toddlers to sleep and keep them asleep throughout the night. The app is noise activated to detect when your baby is waking up.




Can't stand your demanding boss anymore? Start your own business! Before that, be sure to subscribe to BIZNESS, our free informative newsletter published by CoolBusinessIdeas.com. Every week, get the latest edition jam-packed with the latest and smartest cool business ideas delivered straight into your inbox.