Jam-packed with the latest and smartest cool business ideas from around the globe.
If you enjoyed today's issue of BIZNESS! newsletter, then don't forget to also 'Like' our new Facebook Page at https://facebook.com/CoolBizIdeas!
The next issue will arrive in your inbox in the week of 21 July 2014. In the meantime, check out our stream of new business ideas at CoolBusinessIdeas.com.
If you haven't, be sure to subscribe to this free newsletter!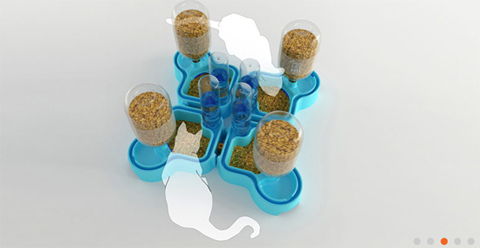 Creative Pet Feeder
True to its name, PetsForPets is a pet feeder specialized for cats, dogs and birds. It is composed of waste PET bottles integrated into the main plastic structure. Serving as a sustainable simple food reservoir and a water tank depending simply on Torricelli's law , waste bottles of 5 Lt and a 1,5 Lt are positioned upside down to complete the product. In this manner, pet-owners do not have to worry about their animals when it is inevitable to leave them at home during the long-journeys.

Read The Rest of This Article |

Comments |

Pets


High Protein Chips

Six Foods has created a brand of chips made from crickets that could make insect meat palatable for the western world. The brainchild of three Harvard graduates — Laura D'Asaro, Rose Wang and Meryl Natow — the startup's first product is Chirps, a gluten-free, natural, low fat chip.



Read More |

Comments |

Food & Beverages

Shoes Made From Plastic Waste

Three friends, Charles Duffy, William Gubbins, and Billy Turvey, got together to come up with a way of communicating the link between waste and consumerism, "and the disposability of contemporary products" in a project they call "Everything You Buy Is Rubbish".



Read More |

Comments |

Society & Enviornment

Playbulb

If you can't spear any space for sound equipment, consider this – Playbulb, a light bulb and a bluetooth speaker in one. It's an LED lamp in a shape of a traditional Edison's bulb paired with a sound device. It can be controlled by an iPhone app, playing music as well as illuminating the room.



Read More |

Comments |

Consumer Goods

Remote Selfies Control

The Muku Shuttr is a Bluetooth remote control enabling cellphone and tablet users to take the perfect self-portrait or group photo. Shipping from September 2013 and priced at USD 39, the Hong Kong-designed device is compatible with a range of iOS, LG and Samsung cellphones.



Read More |

Comments |

Gadgets

App To Find Produce That Turns Ripe

The site Ripe Near Me aims to connect peeps trying to sell (or just plain give away) their backyard bounty with people nearby. It's the digital version of driving past a local raspberry stand. You can search by your favorite fruit, follow someone in your area who's growing it, and get a notification when it's ripe.

Read More |

Comments |

Mobile & Apps




Can't stand your demanding boss anymore? Start your own business! Before that, be sure to subscribe to BIZNESS, our free informative newsletter published by CoolBusinessIdeas.com. Every week, get the latest edition jam-packed with the latest and smartest cool business ideas delivered straight into your inbox.