Jam-packed with the latest and smartest cool business ideas from around the globe.
If you enjoyed today's issue of BIZNESS! newsletter, then don't forget to also 'Like' our new Facebook Page at https://facebook.com/CoolBizIdeas!
The next issue will arrive in your inbox in the week of 27 Jul 2015. In the meantime, check out our stream of new business ideas at CoolBusinessIdeas.com.
If you haven't, be sure to subscribe to this free newsletter!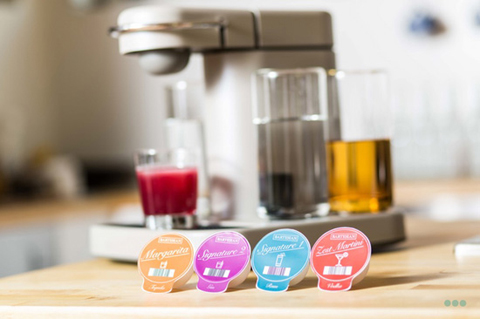 Bartesian Cocktail Machine

Bartesian is cocktails, liberated. Create delicious cocktails at home without fancy recipes or multiple ingredients. Everything you need is inside the capsule – just add the basic spirits (vodka, rum, gin, and tequila). Insert your capsule, select the strength, and Bartesian will mix the perfect cocktail every time.

Read The Rest of This Article |

Food & Beverages


Self Driving Luxury Cars

True to its nature, Mercedes-Benz's self-driving car is "luxury in motion." The automaker is creating a high-end vehicle that not only pilots itself but also functions as a mobile living space that allows owners to relax and interact with the digital environment as they would at home.



Read More |

Travel & Transport

3D Printed Office

The United Arab Emirates likes to be first when it comes to amazing feats of construction and technology. Now the city is planning to build the world's first fully 3D-printed office building. It's a cool, space-age structure that will save a bundle on construction costs and material waste.



Read More |

Technology

Talkspace Text Therapy

Startup Talkspace has helped connect more than 100,000 people across the U.S. with mental health professionals through a website and mobile app. To match patients with the right practitioner, new users partake in an initial consultation; the platform, powered by IBM's Watson, uses semantic analysis to gain insights.



Read More |

Services

Mcbike Takeaway Carrier

McDonald's has launched a wonderful new takeaway pack called 'McBike' for cyclists. The carrier allows riders to conveniently hang their purchased burger, drink and fries on the bicycle's handlebar. The concept, created by agency Tribal Buenos Aires, was first launched in Copenhagen.



Read More |

Travel & Transport

One Wheeled Electric Scooter

It wasn't too long ago that we were all amazed by the introduction of the Segway.The SBU and U3-X added a seat but took away the handlebars from the concept, while the Ryno has both a seat and bars. Now, Montreal-based entrepreneur Carl Dagenais is throwing his hat in the one-wheeled-scooter ring, with the Moto Pogo.

Read More |

Travel & Transport




Can't stand your demanding boss anymore? Start your own business! Before that, be sure to subscribe to BIZNESS, our free informative newsletter published by CoolBusinessIdeas.com. Every week, get the latest edition jam-packed with the latest and smartest cool business ideas delivered straight into your inbox.