Jam-packed with the latest and smartest cool business ideas from around the globe.
If you enjoyed today's issue of BIZNESS! newsletter, then don't forget to also 'Like' our new Facebook Page at https://facebook.com/CoolBizIdeas!
The next issue will arrive in your inbox in the week of 3 Mar 2014. In the meantime, check out our stream of new business ideas at CoolBusinessIdeas.com. If you haven't, be sure to subscribe to this free newsletter!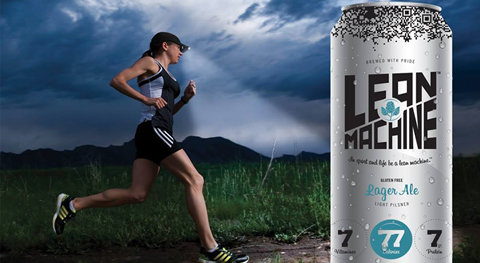 Fitness Beer
Fitness drinks and ale are usually regarded as separate categories. Lean Machine Ale, a low-calorie, low-alcohol 'fit beer' brings the two together in a single glass. Described by brewer Vampt Brands as an ultra-premium beer, Lean Machine ticks every box in the fitness drink book. Gluten-free and vitamin-enriched, the light ale has an alcohol volume of 5% and contains only 77 calories, additional protein to help muscle-building, antioxidants to boost the immune system and electrolytes to aid '100% bio-hydration'.

Read The Rest of This Article |

Comments |

Food & Beverages



Agree to Lend to Friends

A new app has been launched which aims to encourage borrowing between friends and family on Facebook, pushed as an alternative to payday loans. 'Agree It' – which is free to download and use – enables Facebook friends to request loans from each other, for personal or business use, at mutually agreeable rates.



Read More |

Comments |

Services

Clamp Lamp

This witty idea belongs to Swedish designer Ola Giertz. The simplistic Clamp lamp, produced by lighting brand Oriva, can be attached to many different types of furniture easily. Inspired by a classic clothespin, the piece bears a familiar form and offers an equally familiar function. Just clamp it to any shelf or edge.



Read More |

Comments |

Design

Coffee Maker For Mason Jars

Pour Mason is a pour-over coffee maker attachment made specifically for Mason Jars. Made from 1100 Aluminum alloy in Williamsburg Brooklyn and finished with electroless Nickel. The aluminium funnel, lined with disposable paper filers, fits into the lid and filters coffee when it is poured through.



Read More |

Comments |

Homes & Living

World's Largest Concentrating Solar Power Plant

Located just southwest of Las Vegas, the massive solar facility can produce a whopping 392 megawatts of solar energy to power 140,000 California homes with clean energy–the equivalent of removing 400,000 metric tons of carbon dioxide from the air per full year.



Read More |

Comments |

Society & Enviornment

Rainmaker Cap

Who needs a fancy watering can when you can take an old plastic soda bottle (1, 1.5, or 2 liter) and attach the adorable Rainmaker to it to get the job done? Fill the bottle with water, screw on the cloud like you would a cap, turn it over, squeeze and make it rain! Have fun with plants.

Read More |

Comments |

Consumer Goods




Can't stand your demanding boss anymore? Start your own business! Before that, be sure to subscribe to BIZNESS, our free informative newsletter published by CoolBusinessIdeas.com. Every week, get the latest edition jam-packed with the latest and smartest cool business ideas delivered straight into your inbox.