Jam-packed with the latest and smartest cool business ideas from around the globe.
If you enjoyed today's issue of BIZNESS! newsletter, then don't forget to also 'Like' our new Facebook Page at https://facebook.com/CoolBizIdeas!
The next issue will arrive in your inbox in the week of 16 Mar 2015. In the meantime, check out our stream of new business ideas at CoolBusinessIdeas.com.
If you haven't, be sure to subscribe to this free newsletter!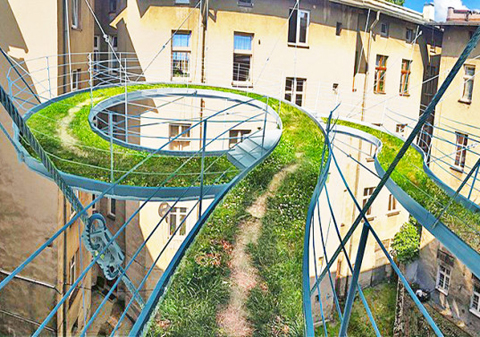 Suspended Green Pathway
Who says balconies need to follow the line of a building? In a new concept for a balcony-like space, Zalewski Architecture Group created a wonderfully unexpected meandering green pathway that extends far beyond the limits of the building. The walkway invites inhabitants to step out of the balcony door and take a stroll on a grassy path high up above a regular courtyard, adding a touch of whimsy to a traditionally unused space.

Read The Rest of This Article |

Design



Smart Connect Cradle 'N Swing

Rocking a fussing baby back to sleep is certainly a crucial part of the bonding process, but there are times when doing so just isn't convenient … right? Well, Fisher Price's new Smart Connect Cradle 'n Swing is on its way. It's a motorized rocking cradle that parents control via their smartphone.



Read More |

Gadgets

My Terrace Farmer

Startup Solar Greens Co. in Nederland is working on fulfilling the first 16 orders of its balcony-size greenhouses, with plans for an official launch in the fall once pre-production and external field-testing are complete. The hope is that the My Terrace Farmer greenhouses will appeal to a variety of gardeners.



Read More |

Society & Enviornment

Drawlie Sketchbook Helps You Draw

DRAWLIE is a classic sketchbook with mini drawing lessons inside. It facilitates learning to draw by providing short and easy guides on different topics and making having a little sketching class always at hand. DRAWLIE is an absolutely unique concept and nobody has ever produced something like this.



Read More |

Arts & Education

Light Fixture Doubles As Planter

Here is a cool way to lift your greenery off the counters and windowsills – Well Light. Designed by Toronto based studio Object Interface, this light fixture doubles as a planter. The shape of the lampshade is ideal for the plants to receive enough sunlight, while the body of the lamp is made of cast aluminum.



Read More |

Homes & Living

Multi Purpose Dining Table

Duotable is a new creation of Michael Hilgers, the man who gave the world this beautiful space-saving desk. The new table is a hybrid, made specifically for us, shoebox dwellers. It can be used as a 4-person dinner table, then transformed into a functional homeoffice by simply flipping a table half.




Can't stand your demanding boss anymore? Start your own business! Before that, be sure to subscribe to BIZNESS, our free informative newsletter published by CoolBusinessIdeas.com. Every week, get the latest edition jam-packed with the latest and smartest cool business ideas delivered straight into your inbox.