Jam-packed with the latest and smartest cool business ideas from around the globe.
If you enjoyed today's issue of BIZNESS! newsletter, then don't forget to also 'Like' our new Facebook Page at https://facebook.com/CoolBizIdeas!
The next issue will arrive in your inbox in the week of 14 Sep 2015. In the meantime, check out our stream of new business ideas at CoolBusinessIdeas.com.
If you haven't, be sure to subscribe to this free newsletter!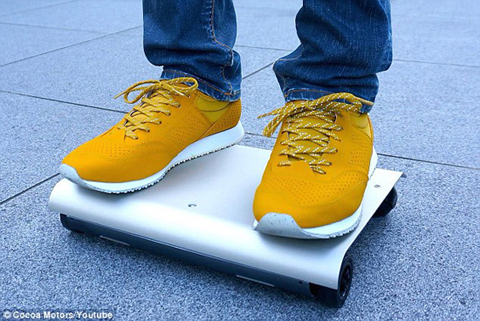 Walkcar In Your Bag

A Japanese engineer just invented a nifty new way to travel: A transporter called a "WalkCar" that's small, light and apparently easy to use. The product is battery powered and is about the size of a laptop. And although it looks like it can't hold much weight and is made from aluminum, it can apparently have as much as 265 lbs on board.

Read The Rest of This Article |

Travel & Transport



Smart Finish Nest Thermostat Mounting Bracket

Smart Finish is committed to making timeless design accessories of artisan quality, at an affordable price. The range of products are a unique combination of simplicity, elegance, and aesthetic that fit the classic to the modern lifestyle. Smart Finish artisanal mounts are made to order from European Beech wood.



Read More |

Homes & Living

The Sun Seeker Solar Generator

Designed in Australia by start-up company Sun-Seeker Power, the Solar Generators use the latest in lithium battery and solar panel technology to shrink an entire campervans power system into a portable package able to be carried by a person. When fully charged the SMALLEST pack can charge an iPhone 120 times.



Read More |

Technology

Podzook Living In A Pod

Remember Archipod? Well, Judy Bernier instantly fell in love with them (just like us) when she spotted them online. The sad fact was that they were only available in the UK. After working with Archipod's inventor Chris Sneesby, the trained architect formed Podzook to bring them to the United States and Canada.



Read More |

Society & Environment

Yo! Home

Designer Simon Woodroffe, creator of YO! Sushi and YOTEL, has recently unveiled an exciting new concept – YO! Home. YO! Home is that new invention." The space-saving ideas and techniques for this new home were borrowed from yacht and automotive design, stage production, and other diverse fields.



Read More |

Homes & Living

Nymi Wearable Multi Factor Authentication

The Nymi Band is a secure, wearable authenticator that increases both convenience and security through continuous, biometrically authenticated, proximity-based access control. The Nymi Band uses a proprietary technology called HeartID to authenticate users to the band using their electrocardiogram (or ECG).




Can't stand your demanding boss anymore? Start your own business! Before that, be sure to subscribe to BIZNESS, our free informative newsletter published by CoolBusinessIdeas.com. Every week, get the latest edition jam-packed with the latest and smartest cool business ideas delivered straight into your inbox.