Jam-packed with the latest and smartest cool business ideas from around the globe.
If you enjoyed today's issue of BIZNESS! newsletter, then don't forget to also 'Like' our new Facebook Page at https://facebook.com/CoolBizIdeas!
The next issue will arrive in your inbox in the week of 4 May 2015. In the meantime, check out our stream of new business ideas at CoolBusinessIdeas.com.
If you haven't, be sure to subscribe to this free newsletter!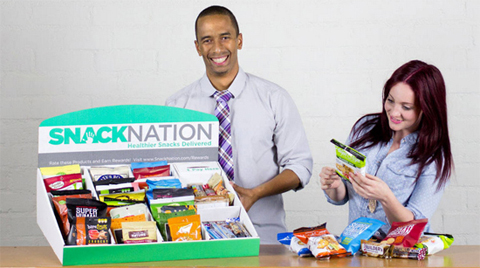 Healthy Snack Box Delivery To Office

SnackNation is the only turnkey healthy snack delivery service designed for your office. Having a SnackNation healthy snack box delivered to your office means no more driving around town to pick up snacks for the entire office. The startup is a one-of-a-kind monthly healthy snack delivery service that helps your employees be happier, healthier, and highly productive. It's also a way to give your employees convenient "grab and go" access to healthy foods so they can stay on site, stay properly fueled, and save themselves time and energy.

Read The Rest of This Article |

Services



A Clock That Tells Both Time And Treasured Moments

monom and IMG SRC have joined together to create a new clock that not only tells time, but also shows your most valuable memories. Shaped like a little house, the center of the clock displays a slideshow of photos uploaded by the user. Users can upload photos via smartphone or on the computer.



Read More |

Consumer Goods

Pet's Shelter; Owners Coffee Table

Dutch designer Ton Matton teaches at the Wendorf Academy, a design lab in the German countryside that creates "productive urban living concepts." As raising "backyard chickens" is notoriously difficult for non-farmers, Matton created the Chicken Cabinet in hopes of simplifying the process.



Read More |

Design & Fashion

Trash To Toys Design

In a remote rural village in Kenya or Malawi, you won't find a toy store, but you'll probably find a shop selling soda. That fact inspired an idea: What if old soda bottles and other packaging could be transformed into toys that children can use for learning and education?



Read More |

Society & Environment

Find A Roommate Service

Forthcoming service LeaseBuddies seeks to reduce the likelihood of such occurrences. Users looking to share a living space simply create a profile detailing their respective rent budgets, quiet hours needed, cleaning habits, general level of introversion or extroversion, and interests.



Read More |

Services

Sock Society Service

The Sock Society philosophy is that socks are the new tie in the workplace. With the de-formalization of the workplace from suits to business casual, socks are now the new way to express individuality. This is the basis for why The Sock Society was started.

Read More |

Retail & Ecommerce




Can't stand your demanding boss anymore? Start your own business! Before that, be sure to subscribe to BIZNESS, our free informative newsletter published by CoolBusinessIdeas.com. Every week, get the latest edition jam-packed with the latest and smartest cool business ideas delivered straight into your inbox.