Jam-packed with the latest and smartest cool business ideas from around the globe.
If you enjoyed today's issue of BIZNESS! newsletter, then don't forget to also 'Like' our new Facebook Page at https://facebook.com/CoolBizIdeas!
The next issue will arrive in your inbox in the week of 15 Feb 2016. In the meantime, check out our stream of new business ideas at CoolBusinessIdeas.com.
If you haven't, be sure to subscribe to this free newsletter!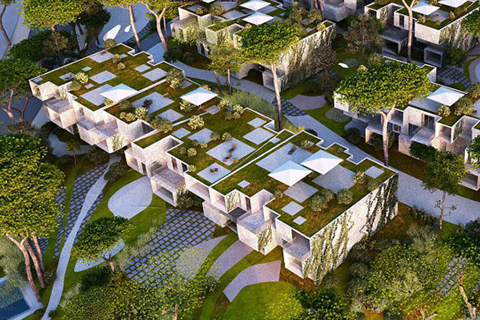 Pastoral Roof

This modular social housing project for Tangier, Morocco, utilizes prefabrication and passive design principles to create a sustainable neighborhood with enviable views of the Atlantic. Stephane Malka of Malka Architecture envisioned the four modules as adjustable green-roofed habitats that create a constantly evolving urban structure.

Read The Rest of This Article |

Society & Environment


Water Saving Smart Shower

At this month's Consumer Electronics Show in Las Vegas, an overly "smart" showerhead called the Hydrao was shown. It basically detects how much water you're wasting with those long showers. Using sensors and LED lights, when it glows green, it mean less than 10 liters of water has passed through its base.



Read More |

Gadgets

The Ergon Desk

There are now plenty of standing desks for buyers to choose from, along with desks that allow users to switch between sitting and standing. The Ergon Desk, however, takes things a step farther. It's a six-person unit designed to facilitate teamwork, and it consists of individual sit/stand stations.



Read More |

Design & Fashion

Seed Sculpture

Here is one unorthodox way to lift your greenery off your counters – sculpturesque planters. SEED by Taeg Nishimoto of studio TN/MOS created these beautiful wall mounted objects that can hold and showcase small house plants. Inspired by river stones, the pieces are made of fast drying cast concrete.



Read More |

Homes & Living

Snap Send And Post With Shyp

Shyp is the easiest way to ship anything. When you send with Shyp, you don't need to worry about packing your stuff or standing in line at the post office. Just open the app, and snap a photo of what you want to send. Enter your shipment's destination address. Request a pickup, and couriers will arrive in 20 minutes.



Read More |

Mobile & Apps

Zero1 Local Deformation Helmet

VICIS, a tech company that spun out of the CoMotion incubation lab at the University of Washington, is working to tackle this challenge with the ZERO1, a 21st century football helmet that is safer, sexier and more functional. Designed to absorb the impact of a collision.




Can't stand your demanding boss anymore? Start your own business! Before that, be sure to subscribe to BIZNESS, our free informative newsletter published by CoolBusinessIdeas.com. Every week, get the latest edition jam-packed with the latest and smartest cool business ideas delivered straight into your inbox.