Jam-packed with the latest and smartest cool business ideas from around the globe.
Wishing you a very happy and rewarding new year in 2013, from all of us here at the BIZNESS! team.
If you enjoyed today's issue of BIZNESS! newsletter, then don't forget to also 'Like' our new Facebook Page at https://facebook.com/CoolBizIdeas!
The next issue will arrive in your inbox on 3 Feb 2013. In the meantime, please check out our daily posts at CoolBusinessIdeas.com and GetEntrepreneurial.com. If you haven't, be sure to subscribe to this free newsletter!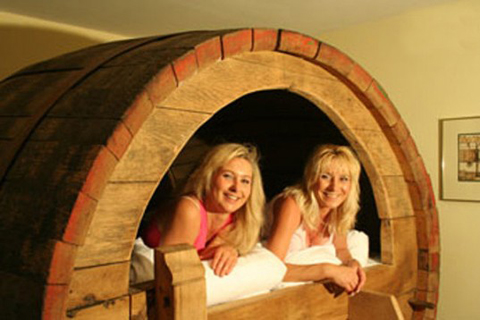 Brewery Sleeping Experience
This AirBnB hotel is Germany encourage guests to imbibe choice libations from their regional brewery – and you can even spend the night in a beer barrel bed! The hotel room for the ultimate beer baron invites guests to snooze in a giant 19th Century beer barrel that has been converted into cozy sleeping quarters. The vintage wood barrel comfortable sleeps two beer lovers.

Read The Rest of This Article |

Comments |

Entertainment



Belt Up Your Table

BelTable by Marcin Pogorzelsk is a very clever idea. Instead of screws, glue or other assembly nastiness, the piece is held together by a single belt. "Our designing goal was to minimize mechanism of a table and reduce problems with transportation and putting together at home," – says the designer. Indeed.



Read More |

Comments |

Design

Bendable Screens

During Samsung's keynote address this week, executives talked up Youm, its new super-thin, flexible display, and while it has the "wow" factor to generate hype, the technology's practical applications beyond the smartphone may make it a lasting breakthrough.



Read More |

Comments |

Technology

Art From Broken Skateboards

Ten years later, his collection overflowing, a friend suggested that sculpture artist Haroshi find a way to do something with them. Cutting into one of the decks with a saw, he noticed an interesting pattern of stripes from its laminated layers of wood, and got to work on his first creation, a wooden bangle-style bracelet.



Read More |

Comments |

Arts & Education

Abooba Play Chair

When furnishings are competing with toys for space in a family home, the Abooba Chair would be a marvelous investment. This kooky design by Jaewook Kim is a clever hybrid of an armchair and a miniature playground. Critically, the sitter is afforded enough room to twist and turn.



Read More |

Comments |

Homes & Living

Voice Command Air Conditioning

LG's Whisen series of AC units, announced Wednesday, is unquestionably the top of the line. You can control it by voice from up to 16 feet away, and you won't even have to yell, since it's low-power and quiet. Or use your smartphone to check its status and turn it on while you drive home.

Read More |

Comments |

Technology

We have a new Facebook Page!
Don't forget to 'like' our FB page to have the latest cool business ideas and innovations delivered in your Facebook newsfeed!

5 Critical Copywriting Mistakes You Should Correct Today

Here are 5 critical copywriting mistakes I found on almost every one of the pages. If you're making these mistakes in your website and SEO copywriting, make a point to correct them ASAP. Read back through your web copy and see if you're guilty of these mistakes.



Read More |

Comments |

Sales & Marketing
Falling In Love With Your Self

Fear and unworthiness are two main issues that powerfully affect self-confidence and self-esteem. How we feel about ourselves affects every aspect of our lives: business success, relationships, happiness, health & wellness. If you do not love yourself, how can you truly love another?



Read More |

Comments |

Success Attitude

Top 6 Reasons Why Your Business Isn't Growing

After having many such conversations over the past few years, I've identified six key reasons why they're not seeing the results they want to see. Read through these reasons and see if you can identify with any of them yourself … you may have more than one! Which of these reasons can you relate to?

Read More |

Comments |

Planning & Management
Are You Having a Love/Hate Relationship with Yourself

If you have been on an inner journey to heal and transform yourself, you may still find yourself struggling to release those beliefs and patterns that are still running your life. And no doubt you are feeling frustrated and wonder what the heck it will take to be liberated from the grip.

Read More |

Comments |

Success Attitude




Can't stand your demanding boss anymore? Start your own business! Before that, be sure to subscribe to our free informative newsletter. BIZNESS! is jointly published by CoolBusinessIdeas.com and GetEntrepreneurial.com What you get in BIZNESS! - the latest new business ideas, small business advice, business tips and info and entrepreneur resources. Everything you need for your brand new business!