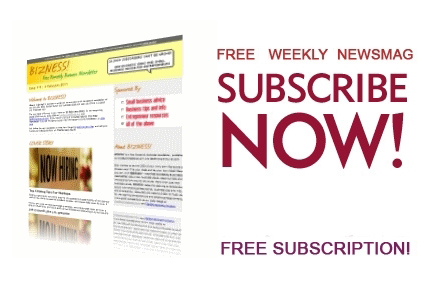 BIZNESS! is a free weekly business newsletter published jointly by CoolBusinessIdeas.com.
Start Your Own Business!
Ever wanted to be the CEO of your very own Starbucks or Amazon.com? Fire your boss and be your own boss? Now you can, with BIZNESS! - the free weekly business newsletter about new business ideas, opportunities and innovations from around the world. A must-read for the aspiring entrepreneurs and small business owners, it is a good complement to our daily stream of new business ideas at CoolBusinessIdeas.com.
20,000+ Subscribers Can't Be Wrong!
Our articles on small business ideas and resources can be immediately applied to any business anywhere, regardless of whether you're in Singapore or Sweden. Every week, we present these new business opportunities and entrepreneurial advice in BIZNESS! which is sent to business professionals worldwide. Our 20,000+ (and still counting!) subscribers include entrepreneurs, CEOs, senior executives, company directors, business consultants, business researchers, marketing managers, business strategists, venture capitalists, and basically anybody who's interested in new entrepreneurial startup business ideas and advice. Subscribe to BIZNESS! - 20,000+ subscribers can't be wrong!
+ SMART BUSINESS IDEAS AND INNOVATIONS REPORT 2012
This free 34-pages PDF ebook (worth $38), Smart Business Ideas and Innovations Report 2012, is a special feature report on the smartest and most innovative business ideas coming from 2012. Smart business ideas often occur in a flash of inspiration, but it takes lots of perspiration to make them a success. To help you with the inspiration part, we have prepared a list of the top 50 smart new business ideas which had caught our imagination in 2012. This is the 'Smart Business Ideas and Innovations Report 2012'. We hope you will glean some insights!
+ AWESOME BUSINESS IDEAS OF 2011
This free 29-pages PDF ebook (worth $38), IAwesome Business Ideas of 2011, is a special feature report on the smart and innovative business ideas that the world has seen last year. There were plenty of awesome new business ideas happening around the world in 2011 - did you spot one of them in your home country? If you didn't, fret not. This special report, 'Awesome Business Ideas of 2011', will be a helpful brainteaser for you. Go on, go ahead and read all about the most awesome and cool business ideas that we've seen last year.
+ TOP 50 NEW BUSINESS IDEAS IN 2010
This free 23-pages PDF ebook (worth $38), Top 50 New Business Ideas of 2010, is a collection of the most interesting business ideas spotted on CoolBusinessIdeas.com last year. What were the most interesting new business ideas in 2010? Which business innovations were brilliant and outstanding? What went through the minds of the radical entrepreneurs in the past year? If you are interested in the anwers to these questions, you'll find this report a good read.
+ COOL BUSINESS IDEAS IN 2009
This free 28-pages PDF ebook (worth $48), Cool Business Ideas in 2009, is an analysis of innovative and never-seen-before business ideas we've seen worldwide in 2009. As competition for consumers' downsized wallet intensifies in these tough times, it is increasingly important to deliver superior value and whet consumers' natural appetite for all things new and latest. So if you have a brilliant business concept in your head, do not hesitate to make it happen in today's business marketplace. For those of you who don't, fret not. Look within this free 29-page report brought to you by CoolBusinessIdeas.com for inspiration on the coolest new business ideas you wish you'd thought of.
+ NEW BUSINESS IDEAS REPORT 2007
This free 20-pages PDF ebook (worth $38), New Business Ideas Report 2007, is brought to you by the business ideas hunting team at CoolBusinessIdeas.com. What is this report about? It is an analysis of innovative and never-seen-before business ideas we've seen worldwide this year. Clearly, entrepreneurs around the world are often inspired by common underlying consumer trends when they are working to bring their new business ideas to fruition. We hope that you'll be able to come up with the next big thing after getting to know some of these interesting consumer and business trends behind 2007's new business ideas.
+ 2006'S BEST BUSINESS IDEAS
This 145-pages report, 2006's Best Business Ideas, is a compilation of the business ideas and concepts which made it big in 2006. We've included 2005's and 2004's hits as well. As you brainstorm of how to start your own business or how to take your existing business a big step forward in the year 2007 and beyond, learn from how the entrepreneurial mavericks did it in 2006. In every industry from advertising to e-commerce, there'll surely be some interesting new idea or innovation in this report which will hopefully inspire you to your own breakthrough, radical and never-seen-before business vision.
Free download for all our BIZNESS! subscribers!

Here's How You Can Subscribe, FREE!

(1) Click on the "Get The Newsletter" button below. You'll be taken to a page where you'll be asked to provide your name and contact details.

(2) Next you'll receive a plain text email message, asking you to click the confirmation link in the email to confirm. This is called a double opt-in procedure. It's for your protection so that no one signs you up without your permission. Click through the link in the email to confirm your subscription.
(3) Once you confirm your subscription, all newsletter will come from the following email address bizness@coolbusinessideas.com, so be sure to add it to your approved sender's list in your email program.

(4) There you have it - it's as simple as that. So click below to subscribe for free now!

The current issue of the newsletter is always available online at: http://bizness.coolbusinessideas.com/current.html.

Previous issues are archived at: http://bizness.coolbusinessideas.com/archives.